Bob Marley Day San Diego - Revie
w
Carlos Culture
Photo: Arianna Gallegos, Carlos Culture

B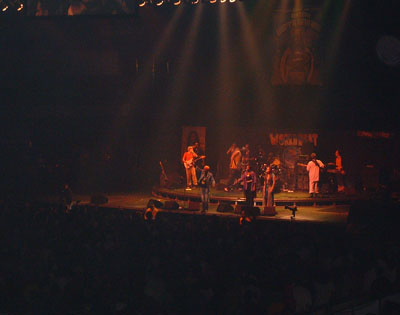 ack to Roots? Roots Revival? Classic Reggae? How about all that and more! That's what the Tribute to Bob Marley Celebration in San Diego February 21st was about. Now running for the 24th year in a row. The San Diego concert had the finest in roots reggae on a rotating stage making it roots lover's paradise. Live bands non-stop from 1:00 to 11:00 it was continuous and hardcore!
Kicking things off with a blast was Kush and the BloodFiyah Angels. Kush, from the Ivory Coas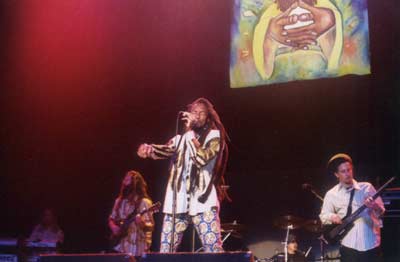 t, sang in French and English, had a great show. The San Diego band in uniform blazed a mighty set and set the pace for the international affair. A Spinning stage turned to Brazil for a band of brothers named Tribo De Jah . The band was great and covered a handful of Bob Marley songs to perfection including "Natural Mystic". They also sang in their native portugese with "Guerreiros da Tribo" and then one in English with "Wonderful World". They jammed and kept the vibes flowin'.

P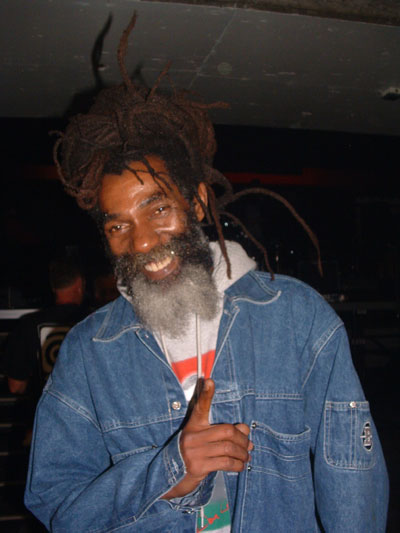 erenial favorite, Don Carlos and his wicked band came on next keeping the audience filled with roots classics and sweet reggae vibes. His set included "Just A Passing Glance", "I Just Can't Stop", "Zion Train", and "Frontline". The MCs, Makeda Dread, founder of the Festival and Junior Fracis did an excellent job and kept the show bubblin' all day and night.

The spinning stage turned to England for a man on mission, Martin "Rootsman" Campbell, he wa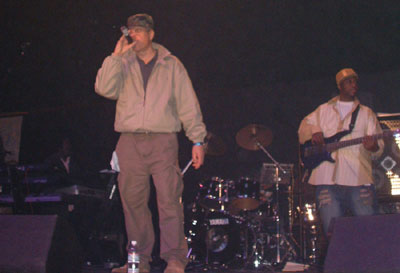 s backed by Detour Posse, LA's best reggae band. Martin has a signature sound from the channel one era. He had a great set and the crowd loved him. After Martin Campbell's set Dakeye, the lead singer for Detour Posse, had the spotlight and rocked one tune.
S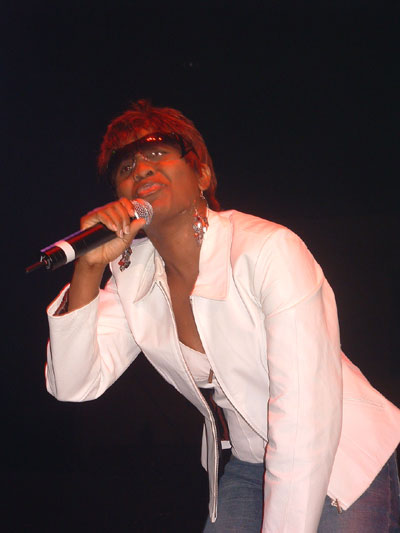 picing things up, Tanya Stephens hit the stage with her new and old hits like "Boom Wuk", "Google', "Can't Breathe", "Good Ride", and "Big Ninja Bike". She was awesome and her band was tight. Tanya made sure the San Diego massive got to see her rock "It's A Pity". Her segues were well thought out and on point.

San Diego's honorary citizen, Barrington Levy ripped the roof off the place. He had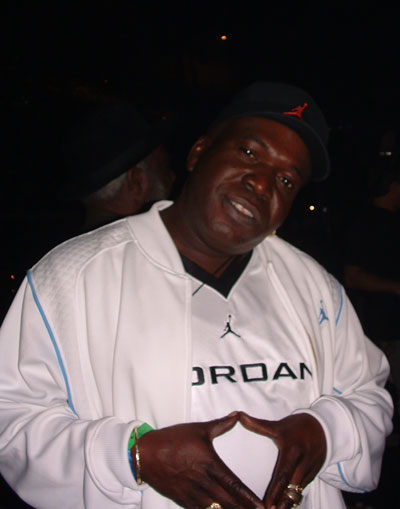 the crowd singing every song and skanking all the way through. Hs band Detour Posse can hold him down like nobody's business. The went right down the line with classics like "Here I Come", "Prison Oval Rock – San Diego Rock", "Every Posse Must Work", and the list goes on. He was awesome!

T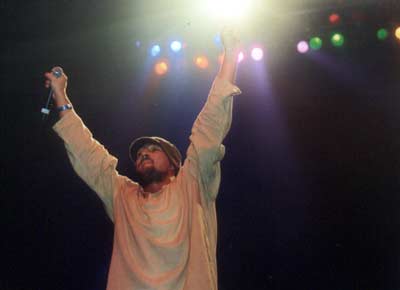 he stage in-the–round turned to Germany for the conscious vibes of Gentleman and his 10-piece German band. Take the vibes of Buju Banton, the stage showmanship of Elephantman, the rapid flow of Damian Marley and his unique singing blend them all together through Germacian word, sound, and power and you have Gentleman. He put on a great set and deliver in explosive style, Songs like "Superior", "Intoxication", "Dem Gone", Jah Inna U Life" and many more were showcased. One of the back up singers came on and did a wicked piece. The band was right on and showed everyone that German reggae bands are also hardcore.
From the new generation of reggae to the foundation is where this show is headed. – with four of the biggest names in reggae and one who had never played in the US ever.
The last barrage of musical paradise started with Misty in Roots, from the UK, this was their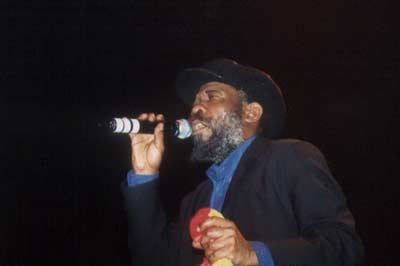 first visit to the US. They were strickly roots obviously with an English twist from the tip top to the last one drop. Truth and rights are the corner stone of this bands message sang by front man Poko. "Wise and Foolish" , "Live Up" and "Peace and Love" and just a few gems they jammed. They put on an outstanding set leaving many of the massive in awe! This group has been playing for 40 years and showed their experience and professionalism.

C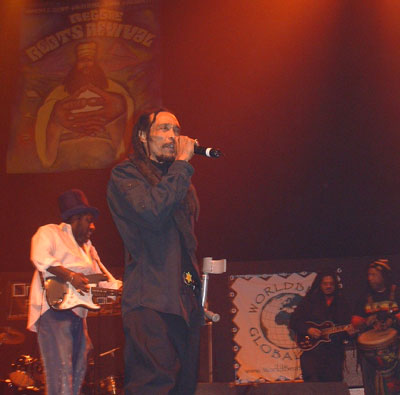 oming around corner was Israel Vibration fully loaded with classics and hits. Wiss and Apple are no strangers to the 619 massive and the 12,000 sold out audience rocked along with vintage tunes like "Vultures", Ball of Fire", "Same Song" and "Fighting Soldiers". These brothers are roots reggae with master bassie, Flabba at the controls.
From Jamaica to the Africa's Ivory Coast is where the vibes are going with Alpha Blondy.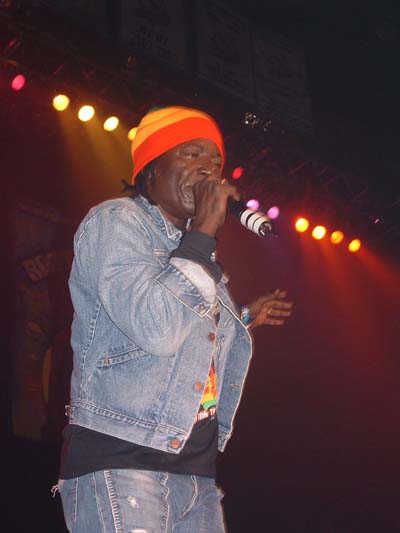 This multi-lingual singer hit the crowd hard with "Jerusalem", " Cocody Rock" and "Aparteid is Nazism". He held the place captive from the center of the stage or most the performance. His band was super tight and gave killer vibes.

Back to the little rock, Jamaica. The MCs showcased another reggae giant, Jimmy Cliff.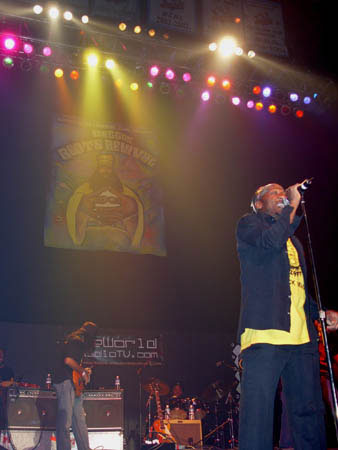 This year's Grammy nominated artist also gave an exceptional performance rocking with "Rub-A-Dub Partner", Wornderful World, Beautiful People", "Treat The Youths Right" and many more. Jimmy had a huge band, the Black Magic Band, had a lot of fun while they had the spotlight.

Steel Pulse, came to put their signature on this year celebration of "A Tribute to Bob Marley"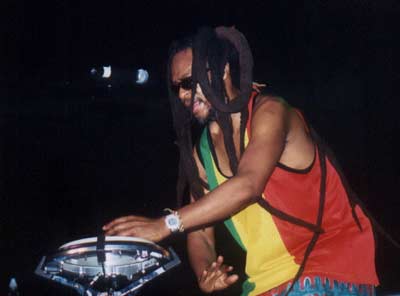 in San Diego. David Dread, Selwyn and the rest of the UK crew came to serious business with their hardcore fans. "Roller Skates", "Bodygaurd", and "Raid Blues Dance" were just a few of the classics along with new material like "African Holocaust" and "Blazing Fire".
The show was a complete success and is looking forward the the 25th Annual Tribute to Bob Marley Celebration.